PATIENT ENGAGEMENT & RETENTION
True Patient-Centricity
The future of patient follow-up is here. Our innovative Call Center and Virtual Waiting Room (vWR) provide new ways to recruit and maintain engagement with patients, creating streamlined flexibility and on-demand visibility for sites.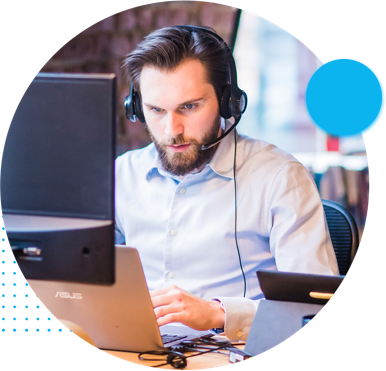 Technology-Driven
Call Center
Our custom call center is the perfect solution for study teams looking to supplement patient engagement and follow-up.
Site-by-Site Flexibility
Custom services to fit your needs! We know that no two sites are alike. Adjust services on a site-by-site basis to get the most out of our call center.
Customized Schedule
Our call center protocol is custom built for each study's specific needs, for everything from communication scripts to follow-up schedules and frequency.
Our Virtual Waiting Room (vWR) takes scheduling conflicts and symptomatic screening requirements out of the patient recruitment equation.
Enlarge the Enrollment Funnel
Don't miss out on patients! Prospective study participants that qualify but are not ready to screen can consent to enter the study Virtual Waiting Room (vWR).
Maintain Engagement
Keep your study top-of-mind! Splash Clinical sends study communication via call and email to qualified participants until they are ready to be passed to sites for screening.
Patient Outreach Solutions
Patient Scheduler App
Increase screening rates by enabling patients to choose and book a convenient time slot to screen for your study.
Patient Concierge
Roll out the red carpet for potential study participants by guiding them through every step of the enrollment process.
Patient Registry
Collect patient information in advance and send information for upcoming studies to kickstart recruitment efforts.
Phone Screening
Benefit from tailored secondary phone screenings to further qualify patients for your study's unique requirements.
REQUEST MORE INFORMATION
Streamline Your
Intake Process
Splash Clinical's patient outreach solutions were built from the get-go to work with your existing protocols and security. Increase your enrollment funnel and boost engagement today!